Beat Swapmeet returns next Sunday, July 11th with a lot more added to the festivities including a producer all-hardware showcase and an outdoor bboy battle. Of course BP & ODDS will be in the place: BP selling records and tapes, and ODDS hosting downstairs. Also, tune in to Breakbeats and Rhymes Radio on 90.7 FM KPFK 2am - 4am, late Saturday night July 3rd (technically early July 4th) and catch BSM on air with record-giveaways. We'll see you next Sunday.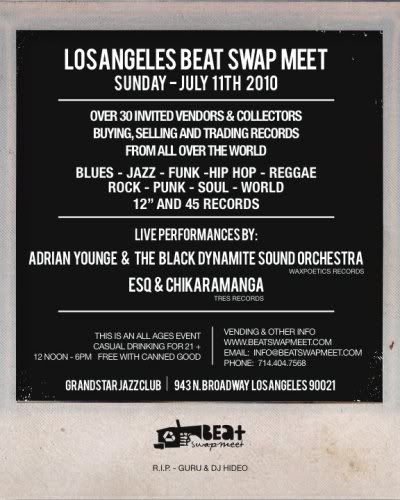 free for everyone as long as you bring a canned good.

Home Before Any Place is a seasonal canned food drive presented by Beat Swapmeet and as the flier states, calls out to LA for help in feeding our brothers and sisters in this beautiful city.